Watch Seth Rogen's Emotional Senate Testimony About Alzheimer's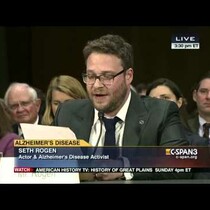 Posted February 27th, 2014 @ 9:41am
My Grandma has Alzheimer's and I've been trying to find a way to help/cope with idea that this disease is taking over.
This speech was exactly what I was looking for. It explains the concern that every person coping with this disease feels.
It's amazing to see what one person can do when given the chance.
"I came here today for a few reasons. One, I'm a huge House of Cards fan. Just marathoned the whole thing. Had to be here. Two is to say people need more help,"
- Seth Rogen